We live in a world where cheaper alternatives are available for everything. So, even though marketing luxury jewelry was never easy, it has only gotten harder, thanks to the endless selection of artificial and imitation jewelry available at the click of a button. As a luxury jewelry brand, your hands are tied. You can neither compete with artificial jewelry brands on pricing, nor can you lure customers in by offering deals and discounts.
So, how do you devise a marketing strategy that cuts through the clutter, reaches your target audience, and truly engages them? The answer isn't simple, but at least there is one.
As a brand, you need to take a step back and revisit what you truly stand for, who your target audience is, what they care about, and finally – what connects your brand and potential customers. The answers you find by digging a little deeper into why your brand exists and the audience it caters to, should be the cornerstone of your strategy and drive all your messaging.
To help you get started, here are some wildly successful digital campaigns by luxury jewelry brands that are worth taking inspiration from:
Digital Campaigns by Luxury Jewelry Brands That Drove Sales And Won Millions Of Hearts
Unforgettable Cartier Stories
Cartier recently launched an IGTV campaign titled – "#CartierStoriesByYou", and it completely redefined jewelry marketing by making it personal, human, and emotional. Over a series of IGTV videos, they invite Cartier's sales advisors to share real stories of customers who came in to buy a piece of jewelry from their store.
The first one is a moving account of an unforgettable marriage proposal, wherein the sales advisor shares an incredibly romantic and charming story of how a man proposed to his girlfriend with a ring he bought from the store.
What makes the campaign so special is how beautifully these tales are narrated and how Cartier manages to keep the focus on people and their stories, rather than their jewelry. It is a brilliant attempt at humanizing the brand and making it all about the customers, while highlighting the role Cartier plays in bringing people together.
David Yurman's Influencer Marketing Campaign
As a brand, David Yurman has always been leveraging influencer marketing to reach their target audience to showcase how their jewelry pieces can be incorporated into various outfits and styles. So far, they have partnered with popular Instagram and Youtube beauty, fashion, and lifestyle influencers including Elena Taber, Shraddha Singh, Amy Havins, and Chelsey Luger. All such celebrated influencers incorporate their jewelry into their personal style and brand and highlight how David Yurman jewelry can be adorned by anyone and made their own.

Bvlgari's Series Of Short Films For Mother's Day
To celebrate Mother's Day this year, Bvlgari teamed up with Vogue Magazine to create a heartwarming short film centered around the relationship shared by a mother and daughter. Starring Vanessa Bryant and Natalia Bryant, the film highlights the special bond that mothers and daughters all around the world share. Natalia Bryant talks about everything she's learned from her mother, the kind of relationship they share, and what makes it so special. Vanessa goes on to share that Natalia means everything to her and how she's always inspired her and everyone around her. Similarly, they created another short film that features Melanie Griffith and Stella Banderas.
In each of the films, the women are seen donning different pieces of Bvlgari jewelry as they share their stories, but not once do they actually talk about it. Their videos are short, simple, relatable, elegant, and beautiful that use the minimum possible words to describe a feeling that one could write a thesis on. The message they try to convey is clear and so is the fact that Bvlgari jewelry wants to be a part of a legacy that is passed down from generation to generation and represents the purest of relationships.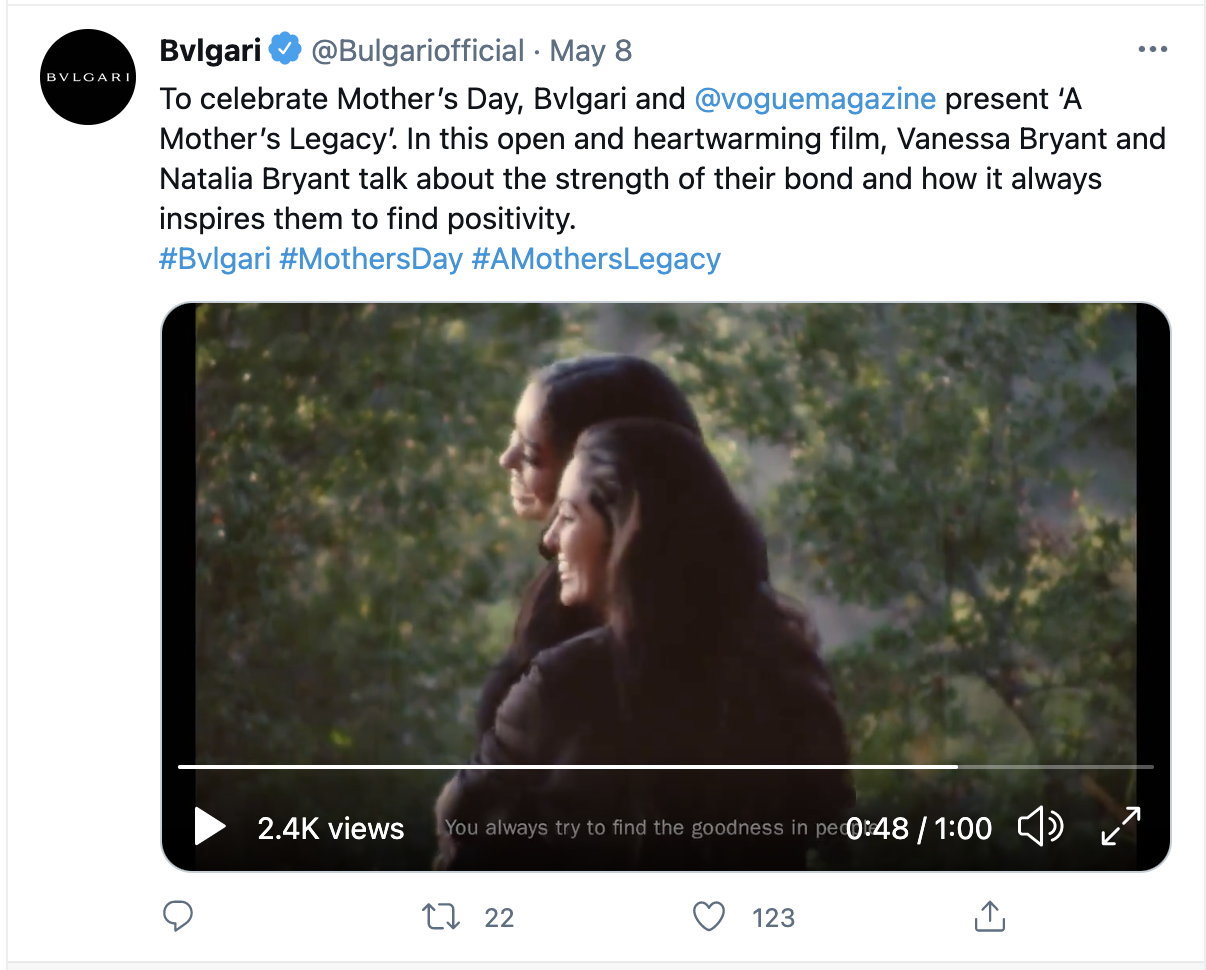 Mikimoto Bridal Short Film
To promote their bridal collection, Mikimoto – a Japanese pearl jewelry designer, created a short film called Starring The Bride which beautifully portrays every bride's desire to be treated as a heroine on her wedding day. The dreamy short film features a young actress as a bride who envisions herself as a movie star. The central idea of the campaign was to highlight that every bride that wears Mikimoto bridal jewelry is no less than a heroine or a celebrity and anyone wearing Mikimoto pearls can glow like a star from a movie.
Mikimoto's campaign won over hearts as it allowed millions of brides across the world to imagine themselves as the protagonist of a larger than life movie on their special day. They made sure that the campaign was centered around the bride and how Mikimoto jewelry allows brides to truly shine and live their long-cherished dream.
Swarovski's #MySparkDelight Campaign
During the Coronavirus lockdown in 2020, Swarovski UK launched a Twitter campaign – #MySparkDelight wherein they invited their followers to share photos of something or someone that has been their 'sparkling delight' during the challenging times. The idea was to encourage people to appreciate and be grateful for their blessings and spend time with things or people that actually make them happy. They even made it a contest where every week, the best entry would win a £50 voucher which could be redeemed on the website.
The campaign was a huge success as it allowed people to take a moment to cherish their blessings while the world grappled with the pandemic. It made Swarovski the center of a conversation that was much larger than their brand, by helping them establish and engage with a community. During these trying times, it's tough for brands to come up with ideas to engage with their followers without being insensitive, and what better way to spark a much needed conversation than by helping amplify moments of happiness.
Tiffany And Co's T Time Series
Tiffany's has never failed to impress with its digital campaigns. In 2020, they launched their much coveted Instagram live series called T Time wherein every Thursday, at 3:30 pm EST, a celebrity guest would take over their Instagram. The series was aimed at spreading light and positivity during the grim times. These guests were invited to talk, teach, answer questions, or share anything positive and productive with Tiffany's followers. This campaign was planned to promote their new collection – T1, which was described as a 'bold reinvention of the Tiffany T collection, which celebrates one's connection to oneself'.
The first Instagram live was hosted by Cleo Wade, wherein she read a poem from her book – "Heart Talk: Poetic Wisdom for a Better Life", and conducted a Q&A session for her fans. Similarly, in another Instagram live, designer Athena Calderone taught followers how to arrange festive flowers and set up the perfect bar for "grab and go" entertaining.
All celebrity guests featured were seen wearing bold and statement pieces from Tiffany's T1 collection through the live. Since the new collection represents courage, strength, optimism, and one's connection with oneself, there's no better way to promote them by welcoming powerful women with unwavering spirits to share their stories and what makes them bold and beautiful.
Pandora's Women's Day Campaign
For Women's Day this year, Pandora launched a series of 3 short films showcasing inspirational women from across the world and what sisterhood, motherhood, and womanhood truly mean to them. They share tales of women across different communities, ethnicities, age groups, and backgrounds, and how they support and lift each other. Each short film was crafted with the aim to give voice to the underrepresented and make them heard.
One of the films, for example, features Creole Cuts – an all female collective of DJs and creatives known for celebrating their Caribbean heritage via their shared passion for music.
What made the campaign so successful and special is the fact that it perfectly aligns with the brand's core values and principles and reinforces the ideas of women empowerment, self expression, sisterhood, and collective upliftment. Without talking about their product once, Pandora managed to reinforce their brand ideologies and improve their brand awareness.
Channels' Over The Moon Campaign
In January 2020, Chanel launched a campaign called Over The Moon wherein a short video showcases 4 strangers who take an elevator to the moon. Each individual is seen wearing some exquisite pieces from Chanel's latest collection as they wait to reach all the way above to the moon. The idea of the campaign was to reinforce the belief that in the end, it is the journey that matters, and not the destination.
The captivating short film embodies everything one expects from Chanel – sophistication, luxury, and timelessness, while showcasing Chanel's breathtaking jewelry pieces in all their glory.
Daniella Draper's Behind The Scenes Campaign
Daniella Draper created a series of short videos that gave viewers a sneak peek into how their jewelry pieces are made. They talk about the intricate craftsmanship that goes into creating each piece, the recycled raw materials that they use to make jewelry responsibly, and the level of detail involved in perfecting every piece.
Why it managed to catch their audiences' attention is because it invites them to take a closer look at how their next potential luxury purchase is crafted. It builds a sense of trust and credibility in the brand by showcasing how transparent they are with their processes. Such are the kind of brands young audiences want to be associated with.
Chopard's Stay Home campaign
As a part of Chopard's Stay Home digital campaign launched in 2020, the brand undertook 3 initiatives to encourage their followers to stay at home and indulge in productive activities to stay happy. The 3 activities were Happy Colouring, Happy Movies, and Happy Playlists.
In the Happy Coloring series, the brand launched their Happy Clown coloring book that featured sketches from their happy clown collection. Caroline Scheufele took center stage to encourage the brand's followers to color the sketches and tag Chopard on social media. She also took followers through her inspiration behind each piece in the collection via IGTV videos.
Similarly, the brand launched Happy Movies, wherein Chopard invited its followers to watch the two documentaries – "The Queen of Kalahari" and "The Legend of the Palme d'Or" on Youtube. In Happy Playlist, the experts at Chopard curated two playlists for their followers to enjoy via Spotify and Youtube.
That said, it isn't very surprising why the Stay Home campaign was so incredibly successful. Chopard focused on building and nurturing a community via this campaign through something that connects all of its followers – art, music, and movies. They realized that the times were tough, and it's important for the brand to stand by its community and foster collective happiness via their shared passions.
Van Cleef & Arpels' Visual Storytelling On Instagram
Van Cleef & Arpels has got their Instagram game on point. The way they leverage Instagram stories to visually describe their collections is breathtakingly beautiful and inspiring. They artistically use storytelling to take their followers through the inspiration behind each of their collections. Not just that, they also deep dive into how each of the pieces is made – the level of precision and craftsmanship that goes into creating exquisite designs.
What truly sets the brand and their social media strategy apart is the storytelling approach they take to transform their followers into a wonderland before they even introduce their jewelry. By introducing their followers to the entire journey that led to crafting the jewelry piece, and not just the final product, they manage to win over their audiences' attention by getting them invested in each product's story.
Crafting Your Marketing Strategy (Get inspired from these digital campaigns by luxury jewelry brands)
All the campaigns discussed above are massively different, but the one thing that connects them is the fact that they strike a chord with their target audience, align with their aspirations, and move them. To create a campaign that does the same for your brand, the first priority would be to get to know your target audience better.
So, spend time researching who your ideal buyer is and what makes them purchase from you. What inspires them, what motivates them, what their aspirations are, and what their dreams are. This will bring you a step closer to crafting a campaign they resonate with. Therefore, there are no shortcuts, and data is the only way to understand who you are trying to market to.
Start collecting and analyzing data to drill down valuable insights that empower you to craft stories that move, inspire, evoke emotions, and start conversations.
Creating digital campaigns by and for luxury jewelry brands can be overwhelming. But you need to tread carefully or you'll end up overspending on them!
Not sure how to create a marketing and advertising strategy for your luxury jewelry brand?
Reach out to the eCommerce growth experts at Motif today. 
 pikashow apk download   Planetfall 1.4.0.4 Mac Game   traffic rider mod apk