To say that 2020 has been a tumultuous year for humanity would be an understatement. The kind of impact that the Coronavirus pandemic has had on businesses, and life at large, has been far-ranging. With businesses having to pivot and adapt to an online-first world, to consumers embracing and thriving in the new, non-physical new normal, the way things have shaped over this time will continue to hold relevance for a long, long time.
In the last ten months, more businesses have gone to exist in an online-first business model than any other time period in history, and this number is only expected to shoot up by a considerable margin in 2021. While such a huge surge in options to choose from for consumers has made them spoilt for choice, for businesses, however, it only means increased competition for the already diminishing consumer attention.
So, what should businesses do to stand out in the sea of competition and reach out to their audience in a way that resonates with them? By focusing on the core of your business – the brand. As Seth Godin, the marketing guru points out, "A brand is the set of expectations, memories, stories and relationships that, taken together, account for a consumer's decision to choose one product or service over another."
Your brand is a story unfolding across customer touchpoints, and that will remain with your audience long after you cease to market to them. Which is why, we at Motif decided to bring to you The Beginner's Guide To Branding For Luxury eCommerce Stores, along with a checklist to follow so that you can get your own kit together with ease.
Ayy, wait. But what exactly is branding?
In the simplest, branding refers to the process of creating a strong, positive perception of a company or a business, its products, offerings, or services in the minds of the audience by combining the various different elements which include but not limit to a logo, design language, value prop, mission statement, and a consistent color scheme throughout all its marcomms. Effective branding helps businesses differentiate themselves from their competitors and build a loyal customer base for themselves.
What it essentially means is that the customer expects that the tone of your voice is consistent over your emails, your website, your customer service personnel's communication, and in fact, every other touchpoint in your customers' lifecycle. If you ever decide to rebrand, you need to change your logo, styling, and more, everywhere, both online and offline, and beyond.
As a brand, you have to make sure you provide a consistent branding so that your audience can identify you in the sea of sameness and distinctly choose you over your customers. For luxury brands, particularly, branding in store can be very different from online branding, as in store you have to think about how you position your products and props that can affect how a person experiences your brand in the first place.
In-store branding is more experiential as compared to online branding, as people can walk around and pick things up, getting a tangible look and feel of their surroundings. Whereas, in the online world, all they have to experience your brand is a screen and your UI/UX. Of course, certain elements of branding are consistent with both online, in-store, and beyond, these include imagery, colors, and logos.
Want to know more? Learn what a brand identity is, here.
Why is branding oh so important for up and coming brands?
Developing a strong brand name, one that resonates well with a business's target audience, has always been important. As Simon Sinek said in his now-famous TED talk, people do not buy what you do, they buy why you do it. It's a fact, consumers just do not buy products, they buy stories they can tell themselves. Here are some of the more tangible reasons why it's important for brands to focus on their branding, especially if you are just starting out:
Branding improves recognition for your business
Consider this: are you more likely to buy from a brand you have heard of before, or one which you have no clue about? The choice is easy, anyone would choose a brand they're aware of. And how this recognition for a brand comes to be is all thanks to none other than branding. Branding ensures people are able to recognize your business among a sea of competitors and identify you.
Branding creates trust among your target audience
Although this goes without saying, a brand creates a seal of trust among your target audience which is more intangible in value than any of your brand growth efforts. If people trust you with their business, it is more often than not all possible because your brand has gone forth and placed a sense of trust in their minds which makes them comfortable in transacting with you.
Good branding helps you build credibility for your business, and given how trust is the most scarce resource in today's day and age, it goes a long way to be beneficial for your bottom line. Since people are already overwhelmed with choices, trust pulls them back to things they care the most about, even if they are not aware of the same.
Branding inspires employees to be more productive
According to popular research into the psychology of workers, many employees need more than just a place to work, or some tasks to be done — they need something to work toward. When employees understand the mission of a business and its reason for existence, they are more likely to feel that same pride and work in an aligned direction to achieve the goals the business has set. Having a strong brand is like turning the company logo into a north flag the rest of the company can get behind.
Branding generates new customers through word of mouth
Now the thing about word of mouth is that it's the strongest of referral sources out there, especially given the fact that you have someone without any incentive going about and championing your brand, being your evangelist? Now that's supreme. And that's one of the trademarks of good branding, you empower your top customers to be able to tell their brands that your business can be trusted.
6 Timeless Strategies To Build Your Luxury eCommerce Brand Online
Getting down to action, we know you would realize building a powerful luxury eCommerce brand is easier said than done. There are just too many pieces in the puzzle one needs to get done right, and even then the chances of your success depend on a number of variables. All in all, it isn't as easy a ride as it might seem!
But fret not, we have gone ahead and did the grunt work for you to bring 8 timeless strategies you can implement right off the bat to build your luxury online brand, all from the comforts of your laptops! So, shall we get started?
Think about brand building analytically, and not linearly
When it comes to building a brand, more often than not, we block ourselves in a silo to only think about certain elements of building a brand. Unfortunately (or fortunately for you), a brand is a lot more than just the logo, your color scheme, and stuff like that. Your brand is an emotion, a tour de force, and a cause which you want to be championed among the people who best personify your audience.
Hence, when it comes to brand building, you need to think out of the box, somewhat analytically to be able to come up with ideas that will help you reach above and beyond. Instead of thinking of a quirky catchphrase or bubbling up a flashy logo, think of how you can blend in your competitive advantage to get a one-up on the peers in your category.
Maintain your brand with consistency across touchpoints
At its simplest, the brand is any interaction that people have with your business, now may it be a social media post which you wrote, or a full-blown event or exhibition (thanks to Covid, even this has moved online), what people see is what they get from your brand. Hence, it becomes imperative for you to be consistent in each and every aspect of your brand – be it aesthetic, comms, and beyond. A lack of which will obviously make people judge if what you do is serious enough, and affect your business likewise. One of the ways to achieve this is to develop a brand kit (more on that later) and follow it religiously.
Pick a niche and double down on it
Let's consider an example to illustrate this point even better: are you more likely to buy coffee from Starbucks, or food? Are you more likely to buy sporting goods from Decathlon or clothes? For some reason, the thought of buying something other than what a brand specializes in gives us a funny feeling in our stomach, doesn't it?
Hence, when it comes to your own brand, why would you want to be a one size fits all, when there's more merit in being a specialized brand, and serving that audience with a targeted mindset. The choice is yours, don't be late. Build strong relationships with your most ideal customers and build from there, instead of trying to please anyone and everyone.
Create a unique value prop and stick to it
According to Wiki, "A value proposition is a promise of value to be delivered, communicated, and acknowledged. It is also a belief from the customer about how value will be delivered, experienced and acquired. A value proposition can apply to an entire organization, or parts thereof, or customer accounts, or products or services." Not to bore you with the semantics, but you do get the point.
Your brand exists for a reason, which you are very clear about. However, if you do not communicate the same to your target audience through your brand, you're missing out on an opportunity to make a deeper impact into their consumer psyche. By highlighting why it is that your brand is better than what the competitors have to offer (pricing, customer service, store policies, etc.), you can ensure that you build a connection with your audience which is deeper than just doing transactions.
Have a dedicated plan for brand marketing
There are no two opinions about the fact that brand building is more of an art than science since there are no playbooks out there which you can just copy and become the next big name in your domain. Unless you bring an element of creativity and innovation into how you go about taking your brand to the next level, you are mostly just shooting in the dark and hoping for something to stick.
This is where having a comprehensive, actionable plan for your brand marketing efforts pays off. By organizing the activities you want to plan for your business, you can reap higher rewards than you would by just doing something sporadically or without such an organization.
Make sure you have a strong online presence
In case you missed it, the year is 2021, and we are right in the thick of the digital economy. Today, everything you do in the online world matters more than in the physical, old brick and mortar setups. People today do not expect, rather demand that you provide them with an experience that is enriching, captivating, and most of all, authentic, right on the channel of their preference, at the time of their choosing.
One of the ways to work towards building a strong online presence is to have brand awareness ads running across multiple channels to get more visibility. When a person visits your luxury store, make sure you are retargeting them all through their journey in order to capture a share of their mind right off the top. Rest, be sure to adapt as per your budget.
Examples Of eCommerce Brand Rocking Their Branding Efforts
Here is a list of 6 eCommerce brands that have been doing a great job with respect to their branding. We went ahead and dissected for you what they do right:
Warby Parker Does It By Being Unconventional
One thing Warby Parker knows best, and has been doing for a while now, is to make mundane products, services, and offerings exciting for the larger audience (their larger audience, of course). The fact that their entire business model depends on unconventional marketing strategy, which also includes great storytelling and quirky branding only adds feathers to their branding caps.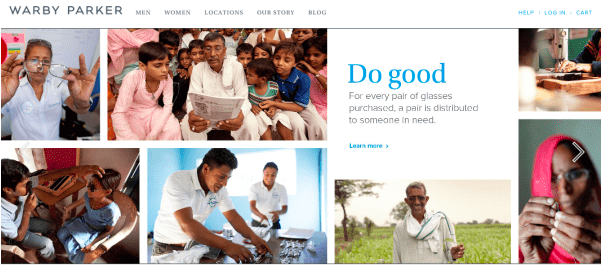 Bonobos competes head-on with the big fish
There is no way it's easy for eCommerce stores to compete directly with the big fish aka Amazon, eBay and the likes (since they have massive budgets), however, if there was something to learn from Bonobos for sure, it'd be this: they focus on creating a unique customer experience for their target audience.
By providing products and services that are super-specific to a narrow audience, Bonobos ensures that they will inevitably become loyal followers of their brands. By focusing on what Bonobos can offer that these major online businesses cannot, they are making a dent in the eCommerce market.
Leesa leverages word of mouth for their brand
It's a well-known fact that word of mouth does better than any other channel out there (not to reiterate the things we talked about above), but here's what Leesa does great for their brand. Rather than spending their entire marketing budget on ads to compete with other hordes of online retailers in their niche, they enlist a marketing automation tool to amplify their word-of-mouth marketing campaign. And boom, wonders!
Everlane brings authenticity through transparency
Everlane ditched the traditional eComm business models that focus on low costs and minimal profits by creating products with radical transparency and showcased it as well.
Basically, they pulled the curtain back on their manufacturing process and showed the true cost of every single step of the process to their customers. Further, they went ahead and included those costs right on their website, along with information about the factories in which the products were made, the materials used to make them, and the exact profits made off of each transaction.
This radical transparency is something online shoppers in the clothing domain had never experienced before, making them stand out among other online business examples in a unique and socially conscious way. Clever, right?
How To Get Your Branding Kit Together (With Checklist)
If you want to understand and communicate your brand identity to those who matter the most, a brand kit is your way to go about. By wrapping and packaging it well, you can send it across to almost anyone from external stakeholders, internal teams, to media partners and where not.
Especially when you are a luxury eCommerce store (and the image is everything, right?), you need to have brand kits as an essential asset in your brand-building efforts, so having it ready at your disposal at all times is a critical mandate.
The rest of this guide is focussed on providing you with the same. We will unpack what a brand kit actually is, why it is important for your company or institution, and how you can build yours without scratching your hair off. Let's get started, shall we?
What exactly is a brand kit again?
Think of a brand kit as a short, compact, easily digestible guide to your brand's visual and aesthetic identity to the rest of the world. By giving a quick reference to the understanding of your brand's logo(s), colors, fonts, typography, graphical and illustrative elements, messaging, and more, it represents everything about your brand in a simple, easy way. Usually, they are shared as downloadable PDFs, or to be printed as documents, whatever floats your goat.
You can distribute your brand kit to all your employees and key partners in your ecosystem, or you can make it public for all customers and media to explore, in case they want help telling your brand's story. Just look at Spotify in the example we share below. The music streaming service publishes its branding guidelines on its website for partners and developers who want to integrate Spotify into their apps, and it works.
How to build your own brand kit?
There are a few core elements that will be essential (and very exclusive) to your brand's brand kit. They would lie at the heart of what your brand has to offer, and they are the tools you need to best convey your brand message in the most impactful way. Let's have a look.
Logo
Now, you would agree: the logo is the most important part of a brand's visual identity. Attaching a memorable image to the company's website, marketing materials, and products help prospective customers remember the brand and differentiate it from competitors.
Since there are different logo placement types (as a favicon, a watermark, an element of website design, and so on and so forth) brands rarely have a single logo for all their marketing purposes. Some, like LinkedIn for example, have multiple design variations in different languages and dimensions to make it easier for yourself later.
Here are the details about the company's logo you should add to the brand kit:
Logo colors plus CMYK & RGB tags
Logo variations for different placements
Download links to high-resolution logo versions in different formats
Scaling and clear space requirements
Trademarking specifications (if any)
Color Palette
The background colors or font colors of your marketing materials shouldn't be random at all — make sure a user can easily associate them with your brand without having to put two and two together. Once you choose the palette that sets your company apart from others, include these colors to the brand kit as one of its essential parts.
Take a look at how Adobe, the tech company lists all colors the company uses for marketing and advertising. To make sure your brand kit is just as convenient for designers, add the following about the company's corporate color palette: Color names, CMYK and RGB tags, and anything else as well. Also, make sure you include:
Specifications which colors can be used as background.
Example of the uses of corporate colors in promotional materials.
Typography
Other than sharing images, your marketing materials contain at least a few paragraphs of copy more often than not. Rather than settling for a standard font like Georgia, make typography a part of the brand's visual identity to make sure you stand out in the clutter.
Add all fonts and styles to the brand kit so that designers know how to style and format copy. Take a look at the way Cisco lays out the brand's chief typography styles.
To make sure you don't miss a thing when explaining the brand's typography, here's a structure for this part of the brand kit:
All font variations (bold, light, regular)
Link to the font pack
Cyrillic and Latin typography versions
Font size and color
Graphics And Illustrations
In this section of the kit, you can include information about the type and style of images associated with the brand to make it even easier. If certain kinds of photos are preferred, include that information here as comprehensively as possible.
Moreover, you can also include a grid of examples of the kinds of photos to include. If your brand has a hand-drawn feel, include how the illustrations paired with the logo should also have a hand-drawn feel, for instance.
Bring Your Brand To Life, Today
Now that you are equipped with the know how of why branding is essential to the success of your luxury eCommerce brand, and how you can go about acing the same, you'd agree it's time to get right to it?
Just follow the steps mentioned in the article, or better, checkout the 4 point checklist included at the end of this article. Either ways, it won't be a task. Happy branding!
4-point Checklist To Get Your Brand Kit Together
Include the main logo and all possible variations
Logo colors plus CMYK & RGB tags
Logo variations for different placements
Download links to high-resolution logo versions in different formats
Scaling and clear space requirements
Trademarking specifications (if any)
Add your brand's color palette
Add the following: Color names, CMYK and RGB tags
Specifications which colors can be used as background
Example of the uses of corporate colors in promotional materials.
Throw in your typography and font style(s)
All font variations (bold, light, regular)
Link to the font pack
Cyrillic and Latin typography versions
Font size and color
Add all graphic and illustrative elements of your brand
Icons used on the home page
Elements used for collections
Banner images
About us page images
Anything and everything excluding your seasonal sale promotion banners