In the past decade alone. eCommerce websites have witnessed tremendous growth. However, they've seen a meteoric rise in success with the launch of native mobile apps.
For many users, mobile devices are becoming paramount in their life and desktop has turned into a secondary touchpoint. A recent report suggests that mobile commerce sales are projected to reach $3.56 trillion in 2021. Today, the majority of searches begin on mobile. Users are embracing this change as they instantaneously connect with a brand's digital presence, especially on mobile.
When it comes to building effective mobile strategies, a lot of brands are stuck at the conundrum: "should they build a mobile app or a store website is enough". A strong mobile presence holds massive growth potential for the eCommerce business today, and brands understand that.
But how do you know if it's time to take the next step, and move into the leagues of H&M and Zara with AppCommerce?
Here's everything you need to know about AppCommerce.
What is AppCommerce?
AppCommerce refers to eCommerce retail transactions that occur on a native mobile application. It is essentially enabling online shopping on mobile devices, but using a dedicated native app.
Native apps in eCommerce provide shoppers with a wonderful shopping experience through a highly optimized user experience. These apps can be installed through an online store or app store marketplace like Google Play or Apple store.
With more shoppers preferring convenient app-based options, brands, retailers, and manufacturers cannot afford to miss capitalizing on this changing retail landscape.
Consumers have migrated to app-based services because apps provide enhanced user experience on mobile, build better brands, sell more products and build customer loyalty through 1:1 relationships with customers. Organizations need to build upon this changing trend, control how their online experience is and how their brand story is communicated.
A great example of a brand leveraging a mobile application to multiply its sales is L'oreal Paris. In 2014, the French cosmetic company launched the MakeupGenius app which uses AR technology to let users virtually apply makeup and try on products.
Once consumers would make a choice, the app directs them to the L'oreal online marketplace to make a purchase. The app also does a wonderful job in product recommendations by tracking a shopper's taste and suggesting related products that they are likely to purchase.
What are the benefits of AppCommerce?
Moving to Appcommerce can be a game-changer for any eCommerce brand. More than 50% of shoppers choose to shop from a mobile app instead of a mobile browser. When consumers shop through mobile apps, they experience the ease of navigation, better search, and speedy results. This essentially results in increased engagement, transaction frequency, and sale through apps, making it a vital channel in any brand's offering.
AppCommerce empowers brands to create a far more personalized shopping experience with custom offers, buying suggestions, regular notifications, and discounts that are easily accessible to the shopper through their mobile.
1. Increase in Conversion Rates
When shoppers are able to conveniently and speedily interact with a shopping platform, they experience a great shopping journey which is better than what they would experience on the web or in-person. This results in better conversion rates for the brand.
Brands are also able to provide better engagement as mobile apps are highly personalized with better navigation. Brand track product history, browsing history and provide suggestions customized to the shopper's tastes. This influences consumer behavior big time.
2. Enables faster purchases
AppCommerce is able to make the browsing and purchase process much faster than eCommerce or mCommerce as it removes the need to pull data from a server.
The faster the buying process, the better is the customer experience. Additionally, shoppers don't have to remember store URLs, login credentials, get better speed and security compared to a mobile browser.
3. Increase in Average Order Value (AOV)
Shoppers browsing an online store through apps are more likely to make a purchase than through the website. Moreover, studies suggest that customers using apps also end up spending more money thereby increasing the average order value of their purchase.
4. Richer Brand Experience
When it comes to enhancing their brand image, for every organization customers are their best bet. And what better medium to connect with shoppers than a mobile app to drive this brand awareness.
Consumers spend almost 27% more time on mobile apps compared to websites. Apps provide customers with a rich and immersive shopping experience by presenting content in a compelling way and using new technologies for an enhanced shopping experience.
One of the popular ways that brands use to keep customers engaged on their app is through the use of blogs in their app. A blog is presented to the customer with the intent of providing them with helpful information about the products and give them a community-centric feel. Rather than just scrolling through a marketplace, blogs make the reader feel more engaged and increases the chances of purchase. Strong and relevant content often drives customers back to the app thus making them returning consumers.
A lot of brands have launched apps incorporating AR technology to help customers try out their products virtually before buying. For example, IKEA allows you to place a piece of furniture in your house and visualize how it'll fit before even buying. Nykaa, an online beauty, and fashion retail brand allow you to virtually try out various lipstick shades to help you decide your perfect shade. Incorporating Emerging tech like these makes the shopping experience fun and persuades people to buy from them.
Shopping brands thrive on loyalty schemes. A shopper often wants to feel special and brands leverage loyalty schemes to keep shoppers at the forefront of the latest product launches, timely remind them of discounts and other offers. Apps are easily able to send highly personalized reminders to customers through push notifications.
5. Increased Customer Retention
If a customer downloads your store's app, they are more likely to stick to your brand than those they browse through websites. Customers often create a brand preference based on their first experience with an app.
Repeated purchases from an app imply that has piqued a customer's interest, thus leading to increased customer retention. With increased browsing and ease of use through a mobile app, customers also make larger purchases when shopping through an app. This leads to increased sales and repeat purchases.
6. Lower Cart Abandonment
Cart abandonment is one of the biggest issues faced by retail businesses. An estimated 70% of shoppers abandon their cart before checking out. Some reasons for cart abandonment are higher shipping costs/additional costs, slow processes, lesser payment options.
These issues can be mitigated by providing the shopper with a great app design. Optimizing the entire checkout process has shown to encourage shoppers to complete their purchase, and can even end up reducing the cart abandonment rate by up to 20%.
7. Simple and Secure transactions
One of the biggest concerns faced by customers when shopping online is security. Security vulnerabilities often creep in when shopping through long checkout processes and declined transactions on store websites.
This is resolved in mobile apps, as they come with a multi-layer security plan. Payments are safer, easier, and faster due to integration with Google Pay, net banking, credit/debit cards, and other e-wallet options. Every app gives you an option to save your payment details securely to ensure faster checkouts in the future.
Pros and Cons of native apps or AppCommerce for eCommerce businesses
The pros and cons of building a responsive mobile website for retail and eCommerce are the following:
Pros of eCommerce native apps
Highly responsive, easy to design, develop and maintain.
Faster loading speed
Better search results through ease in indexing.
Better user experience on smartphones compared to mobile sites
More cost-effective than maintaining two sites: one for desktop and another for mobile.
Improved payment as AppCommerce leverages phone payment tech like Google Pay and Apple Pay
Easier to performance track through Google Analytics integration.
Opportunity to create more targeted marketing campaigns for mobile users.
Cons of eCommerce native apps
Costly: Developing native apps for eCommerce is labor-intensive.
Hard to discover as SEO cannot be used to discover the app.
Needs Developers for each platform
Limit in custom coding: Most eCommerce brands use templates for their apps, however, to design anything different requires custom coding.
Needs optimization: To make mobile commerce a flawless experience, you'll need to use advanced technologies, great design, and best practices to ensure this.
Privacy concerns: Businesses using mCommerce have more access to consumer data and a larger responsibility to abide by and ensure data protection compliance.
Should you be investing in AppCommerce and making to eCommerce native apps?
There's no denying the fact that a mobile app could hold massive growth potential for your business. With a meteoric rise in mobile shoppers, observe how many customers buy from your site from their mobile devices.
A good hard look at the number of conversions/actual sales you're getting from mobile devices can give you an idea of whether to invest in AppCommerce or not.
You should be investing in building a native app for your eCommerce business when you're sure of the following:
1. You have the resources to build a native app and maintain it
Before allotting huge resources and time to build a native app, make a complete assessment if a mobile app can play a pivotal role in growing your eCommerce brand. Meanwhile, grow your current customer base and invest your time and resources in your existing platform.
Once you've reached a certain level of growth with your existing platform and have the resources to take the leap, establish a business case and invest in a mobile app. Whether to outsource or create the app in-house is another costing question you'll need to tackle.
2. If you see mobile as a major traffic source to your online store
If your online store is receiving most of its traffic from mobile, it's time to move your store to a mobile app. Don't miss out on capitalizing from your mobile traffic through push notifications and targeted sales.
Your customers are clearly preferring to use mobile devices to shop online and thus switching to an app would make it much easier for them as the shopping experience gets more intuitive and rich.
3. If you want to stay competitive in an ever-growing market
This is the most obvious one: your competitors have already moved to AppCommerce. In the current eCommerce market, highly competitive brands are already building apps of their own and creating a loyal customer base. If you wait till it's the "right time" to create a mobile app, you'll take much longer to catch up with them.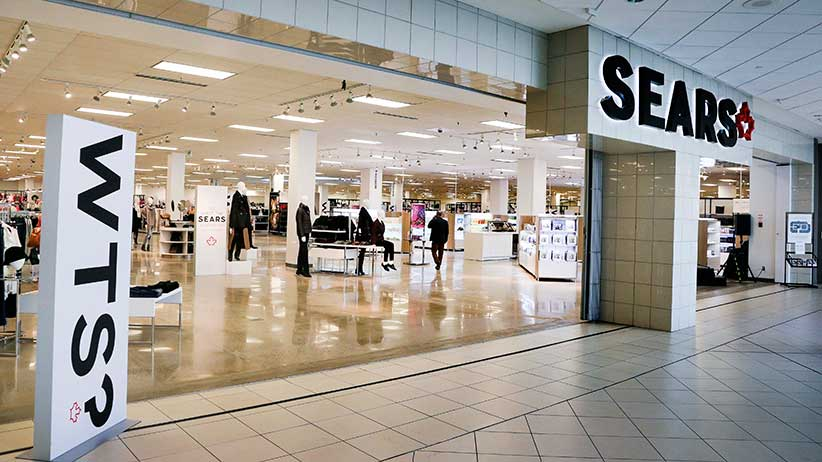 Sears Canada finally ceased their operations in 2018 as they were slow to adapt to changes in the market.
eCommerce brands that took the next step to AppCommerce and are succeeding at it
Here's a look at some eCommerce brands that leveraged mobile apps to notch up their success.
1. Amazon
Amazon, the eCommerce mammoth, has created the perfect mobile app for shoppers. The app provides an excellent shopping experience, access to a wide array of products, and is much faster to search and purchase. From start to finish, the app has perfected its shopper's journey.
2. Best Buy
Best buy completely elevated its search functionality when it introduced visual search to fit its mobile app into its omnichannel strategy. The Best Buy app uses visual search to scan products from a physical catalog and find them online for instant purchase. Moreover, the app also leverages geofencing to nudge customers to earn loyalty points by checking-in while visiting their store.
3. H&M
H&M, a leading fashion retailer provides an amazing app experience for both android and iOS users. Beautifully designed with great graphics and style catalog, H&M has nailed its eCommerce app and has earned loyal shoppers. Users get timely alerts on sales and new collection launches and can easily use a barcode scanner to find items in the app.
4. Urban Outfitters
Urban Outfitters' mobile app provides personalized recommendations by leveraging location and activity data to send customers contextual messages. For example, if a customer is visiting a beach, it sends them offers on beachwear and hats. This initiative led to a 75% increase in conversions and more than doubled their average revenue per shopper.
5. Rayban
Rayban is a great example of an intuitive app design combined with a unique functionality. Since most shoppers want to try out sunglasses before purchasing them, integrating the virtual try-on functionality in its app is one of the most genius ideas for a sunglass brand. Users can take a picture of themselves to virtually try out any sunglasses and determine which one suits their face and style the most.
6. Walmart
The Walmart mobile app offers an incredible shopping experience to users. Some noteworthy features include smart shopping lists with manufacturer's coupon codes, real-time price calculations, QR code scans, and the ability to add items to the shopping cart by speaking, typing, or scanning barcodes.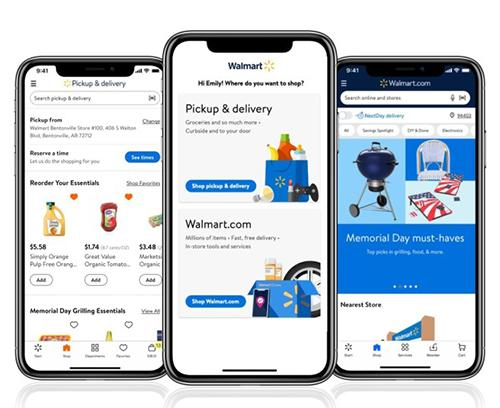 7. Asos
The Asos mobile app does a wonderful job of personalizing the mobile shopping experience for its customers. Not only does it provide great recommendations but also aids the shopper in buying the right item through its Fit Assistant: an in-app facility that recommends sizes for products based on past purchases, similar shoppers, or your height and weight details. Its Style Match tool provides you best product match from its catalog based on a picture of an outfit you share from anywhere on the internet.
8. Wayfair
Wayfair, a furniture retailer, uses its mobile app to help consumers at all stages of the buyer's journey. Designed like Pinterest, the app allows shoppers to create groups of their favorite products and decor items, organize them according to style, color, or product type and share with family and friends for opinions.
9. Boxed
Boxed, an online wholesale retailer is heavy on tech usage to provide superior customer support and build loyalty. It uses chatbots and augmented reality (AR) to communicate with customers about their order, discover new products and see in real-time how the products they are buying in bulk fits into their home.
Isn't a mobile-optimized website enough?
App or no app, a mobile-optimized website is an absolute must. However, relying solely on a mobile website diminishes your marketing potential when a customer doesn't make their first purchase.
Oftentimes, web traffic does not convert the first time around. In such cases, you'll find it hard to ensure if the customer will return back to your site. You can certainly use cookies to target visitors with banner and Facebook ads but this too faces some resistance.
A more sustainable solution is to build a mobile app that gives you more control over the customer experience and retargeting. A mobile app also forms the perfect platform for a loyalty program: the customer makes a purchase and earns loyalty points encouraging them to come back for future purchases.
The Starbucks loyalty program is the perfect example of how a mobile app can leverage loyalty programs to drive up customer loyalty and ensure repeat purchases.
Wrapping things up – Do you need AppCommerce?
Enabling AppCommerce for your eCommerce store is the starting point of an interactive and immersive relationship with your consumers. As brands explore multiple avenues to grow their business, 'shopping on the go' becomes even more meaningful.
If you want to build loyalty, boost engagement and ensure greater conversions, AppCommerce is the next step for you.
If you're not sure whether AppCommerce is the right model for your eCommerce business, but would love to explore it, we'd like to help.
Let's get on a consultation call and explore the potential opportunities that having an app could offer to your brand!