Who could ever think that Gucci's digital marketing rebranding kept it relevant? Absurd, right? Yet, that's exactly what happened.

Gucci, much like many other high fashion brands relied and continues to rely on smart social media marketing to draw attention and gain followers. Gucci was one of the very few luxury brands that launched their eCommerce store as early as 2002. And with strategic marketing approaches, Gucci's parent company saw a 72% jump in eCommerce sales in the second quarter of 2020.
As of now, Gucci has a whopping 44 million something followers on Instagram. And Instagram's parent company, Facebook attributes Gucci's rise in online purchases to a higher return on ad campaigns run on both Facebook, and Instagram.



Luxury brand owners have often caught themselves in a ping pong fight between numbers, and exclusivity. Instagram offers the numbers and the fame that luxury brands desperately seek, but it doesn't necessarily offer the charm of exclusivity, according to some luxury brand owners. But, the platform has consistently waived off doubts, and showed time and again that to build the desired buzz, there is nothing better than an ad campaign. Successful Facebook and Instagram ad campaigns in some cases, have offered brands a 14x rise in attributed revenue, and a 14x higher return on ad spend.
It doesn't then come as a shocker that top luxury brands from Gucci to LV to Prada have a boastful following in tens of millions and choose Instagram and Facebook for launches and ads. The fact remains, that these channels offer a unique platform for luxury brands not only to advertise but to build a cult following through an art gallery esque placement of products.
The Challenge Of Luxury Brands
One challenge that is faced by luxury brands regardless of their stature is the one limitation of Facebook and Instagram ads. Ads run on both these social media platforms are very short term, and cater to a quick response method of marketing. Therefore, these aren't a very lucrative option for brand building.

Upcoming brands with little or no social proof can often get stuck in the vicious cycle of dipping sales and creating direct response ads. What happens is, smaller luxury brands get the response they are seeking with ads but without a solid enough branding base, they are unable to convert those leads. So, remember one thing before going into Facebook, and Instagram ads. You will get the engagement you are seeking, but do you have a solid enough backing to take that engagement to a sale?

Now, when we say solid enough backing, we mean proof of quality! With drop shipping flooding the fashion industry, it is getting harder for a customer to differentiate between an actual luxury brand and just another subpar quality brand. For example, here an Instagram grid of a very famous brand, with a massive presence on social media with a whopping 19.7 million Instagram followers:


Looking at the above grid, it is kind of hard to tell that this is a dropshipping brand that serves fast fashion. With a sophisticated design and marketing techniques, it has enough to rope up new customers with ads and offer cheap quality, fast fashion in the mask of luxury. Not that we intend to take jabs at any particular brand here, but the social proof is enough to reflect this truth about the brand.
Here are a few comments on a high engagement post from the brand:



Most of the comments are complaints, and warnings from buyers. Due to the increase in sellers and merchants that are trying to dupe customers, an average customer has started getting more cautious of the brands they engage with.

Especially with a luxury brand, customers want to be dead sure of the authenticity of a brand. With a luxury brand, for a customer, a lot more is at stake with a purchase as compared to fast fashion. And shoppers expect a lot more from a luxury brand.
Tips to Keep in Mind when using Facebook and Instagram for luxury marketing
Advertising for luxury brands is tricky business. Nothing on your Instagram ad, from the font to the hashtag you use can be cheap. Everything needs to be a perfect reflection of the luxe and quality you offer in your products. To step up the game, and fit into the luxury businesses' digital marketing tactics, the number one thing to keep in mind is:
Branding

Branding is almost an imperative step of a luxury brand. Much like art, luxury brands sell by their name. And that name demands quality. Branding covers everything from the name to the logo to the color scheme. How a fashion brand fits into a conversation depends on its branding. And nothing is more powerful in the world of deluxe than creative assets. From the packaging of a product, to the graphic you use on the Instagram post, everything matters.

Here is a product relaunch from a relatively fresh medium range luxury clothing line called Teddy Fresh. This is a photoshoot of their classic hoodie:


With just 610k total Instagram followers, this post saw over 75k likes which is more than the average of the grid above from Shein. Branding here makes all the difference.

Branding intensifies for high-end fashion brands like Chanel, who constantly push their boundaries and create something truly unique. For example, their recent Instagram grid contained re-creating their bestselling products, synonymous with their brand with paper mache like animations.


The above is actually an Instagram grid and not a high school board artwork. It was posted on Chanel's Instagram page on the event of Mother's Day, for its 44 million followers. Some of these are videos, while others are images. The edginess and simplicity is so drawing, that a few of these posts had a quarter million likes. Imagine the engagement.

Keep in mind the aesthetics of everything you put out for your audience. And create a social media profile that aligns with your product and target audience.
Influencers, models, Instagram models
Luxury products from time immemorial have made their money on the backs of hardworking models who put themselves all out for every photoshoot, every runway walk, and fashion weeks. In that sense, Instagram and Facebook offer an extremely unique opportunity to upcoming luxury brands.

Influencer partnerships offer a great deal of success for luxury brand building with positive social proof and an opportunity to create engaging ads backed by targeted content. Moreover, influencer marketing makes a brand more approachable, and adds on the Millenials and Gen Zers to the following lists of age old luxury brands.

One such example is Tiffany & Co., a classic jewelry brand that has been around nearly 200 years. Pretty much all generations in the US know about this brand but the Millenials and Gen Z didn't relate to it as dearly as some of the older generations. How did they loop them in? By collaborating with popular icons of this audience, from world renowned model Kendall Jenner to travel influencer Jack Morris, both did influencer partnerships with Tiffany & Co.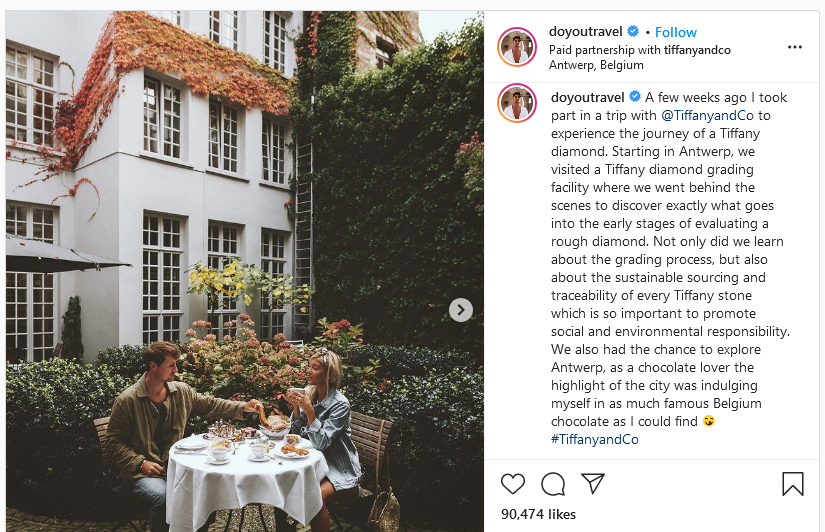 The above partnership with travel blogger @doyoutravel or Jack Morris got more than 90 thousand likes and enough engagement for his followers to hop on over to Tiffany & Co. This is back in 2017.
The Kendall Jenner partnership blew up as it got more than 3 million likes and an endorsement of fashion from a top model. It really flooded the gates for Tiffany & Co. and gave them a whopping number of high intent buyers.

Understandably, not every luxury brand can loop in Kendall Jenner or any other top model for influencer partnership. But you can definitely loop in Instagram models, or influencers on Facebook and Instagram that have an audience similar to your to give your campaigns a boost. A lot of luxury beauty brands send PR packages to beauty gurus who then review their products, and give them a platform for exposure on their profiles. Of course, the beauty guru can review your product badly, decreasing your overall credibility. Therefore, it is best to send your products to an influencer with high credibility and partnering with them is more likely to get you better engagement.
Give your clients a platform
A great way to engage your audience is to give their content a platform through your own page. User generated content like reviews, photos, videos for your brand have consistently been found to increase engagement, clickthrough rates and ad views. User generated product videos especially exhibit strong synergy in driving sales according to this study.
One brand that has truly mastered the art of platforming user generated content for marketing is fashion house Sabyasachi. Sabyasachi has around 4.8 million followers on its official Instagram page, and has a parallel page for user generated content called Brides of Sabyasachi with 1.2 million followers. Sabyasachi creates bridal gowns and dresses and showcases their client's bridal looks in its outfits on Brides of Sabyasachi. Although, models like Priyanka Chopra often pop up on Brides of Sabyasachi, but only for their own real wedding pictures, not paid contracts. The entire page belongs to real brides that chose Sabyasachi's designs for their wedding.


Alternatively, Sabyasachi also has a Grooms of Sabyasachi page for their male clients.

User generated content brings trust and confidence in a brand. You can do this for your own luxury brand by posting user reviews or product videos in your stories to begin with. But ensure that you are in control of the content you are posting and that it matches the quality of your overall page.

A sneak peek into the green room
Luxury brands always try to maintain the air of exclusivity around them. And since they usually are a bit pricey, they can be intimidating for many. In fact, communications from luxury brands tend to come off as standoffish at times. However, behind iconic luxury products is a story of blood and sweat, and your audience deserves to get a sneak peek into it.

Luxury fashion brand Chanel partnered with legendary, Academy Award winner director Sofia Coppola to create a film series on some of its most iconic products like the classic Chanel bag. Channel shared short clips of the making of these iconic Chanel products on its Instagram and Facebook pages.



Chanel took to Instagram and shared stories behind products from their origin and showed its 44.2 million followers how these products are made today. Not only does it add on to their legacy as a high end fashion brand, but draws an emotional connection with its audience. It shows them the true worth of a hand made dress, and what it takes to create quality clothes that are no less than pieces of art.


The behind the scenes sneak peek is not just limited to the making of products. In the case of luxury brands, a lot of work is put into showcasing the products. For example, products are modelled and presented in a certain way. Prada often shares behind the scenes from its shoots and launches in creative and fun ads that create just the right kind of buzz!


Share your ads with people who can afford to buy!
Facebook has a method of targeting ads that can make ads from luxury brands arrows with razor sharp tips that never miss the mark. With income targeting, Facebook allows users to target ads for income groups that have a household income that meets your buyer profile.

The tricky business with luxury brands is the premium pricing for most customers. Sure, you can share your ads and posts with all types of income groups, but not all will necessarily convert, because they can not. The income restrictions with luxury brands make advertising a slightly tricky game, but not with Facebook. You can in fact target users based on the average income for their zip code.

This method of targeting ads is useful for driving sales rather than brand building. But it does give you a method of focusing on sales with targeted ad campaigns. However, brand building is the first step towards successful marketing campaigns on both Instagram and Facebook as discussed above. So up and coming luxury brands shouldn't get carried away with income targeting metrics on Facebook before they build brand awareness.
So, should luxury brands advertise on Facebook or/and Instagram?
Definitely, yes.

Both these platforms are helping businesses make big moves, from Louis Vuitton to Gucci, every luxury brand has a success story with Facebook and Instagram advertising and these numbers are going up.

Since luxury brands can't create one time offers, or deals and discounts that traditionally go well with eCommerce marketing, ad campaigns are a great way to boost sales. In fact, with active social media pages, luxury brands stay in touch with consumers which is what the entire idea behind the premium shopping experience is.

Facebook and Instagram ad campaigns aren't abstract deals, you can actually take a data driven approach to your marketing and create a channel for growth. If you have the right technology stack and guidance, you can definitely make a marketing success story with Facebook and Instagram ads. Here is where we come in, at Motif, we strive to bring forth the right concoction of marketing strategies for your luxury brand. Instead of offering you fancy ideas, we offer you a plan backed by proven methodologies custom built for the growth of your luxury brand!