When any other brand out there wants to gain some traction and get new customers, offering deals and discounts is a go-to strategy. But when it comes to luxury brands, the same is an absolute no-go.
In the silky bubble of luxe branding, giving away discounts comes off as cheap. Whether it is beauty, fashion or jewelry, the high end shopper of a luxury brand is shopping for the luxurious experience. And slashing prices bursts the bubble of exclusivity and makes it all too basic for them to even engage with.
Luxury brands walk a tightrope when it comes to marketing, because nothing, absolutely nothing should interfere with the luxury shopping experience. From maintaining the legacy, to offering exclusivity, a luxury brand must always bring forth the best.
So, what's a strategy luxury brands can leverage to tug at the high-end shopper's heart or strike a chord with an audience that finds them aspirational?
Nostalgia marketing!
Nostalgia marketing is a powerful way to spice up your marketing strategy with a quick throwback to the good ole' simpler times. It combines two different worlds, one of the bygone era, and another of the ultra-modern times we live in. And this neat marketing technique is everywhere!
Let's step into a road down the nostalgia marketing lane to help you understand it better.
What is Nostalgia Marketing?
One word that is awfully overused during fashion week is "classic". Designers and keen members of the audience are obsessed with what is referred to as classic. The classic song, the classic dress, the classic look. The classic everything.
If you haven't guessed it by now, that's the in-focus word when we talk about nostalgia marketing. Nostalgia marketing uses something classic, a blast from the past to connect with audiences. It is the warm feeling of happier times, when luxury was for a few, and art wasn't plentiful.
Nostalgia marketing combines the elements and icons of bygone days and juxtaposes it with the needs of the modern consumer. And it works like a miracle. From the classic iconography of Marilyn Monroe to the 90s vibe, all the fads of yore trending today are nothing but nostalgia marketing.
Marketers capture something of deep emotional significance to its client base and recreate it with a new but classic look. This triggers a reaction from the consumer, a yearning of the past satiated through the marketing or advertising campaign, making them want to be a part of it.
Why is Nostalgia Marketing Important today?
Nostalgia marketing is truly a genius marketing strategy. Not just from the marketer's perspective but the artist's perspective. And let's be honest, behind every luxury brand is an artist who knows how to market.
Triggers a Favorable Emotional Response
Within the limited constraints of a mortal mind, nostalgia is of key importance. According to many scientific studies conducted around the world, nostalgia triggers a sense of comfort, belonging and counteracts loneliness and the anxiety of the fast paced world today. Nostalgia offers a feeling of warmth to most human beings, just the thought of pleasant, good ole' days triggers a positive response.
This makes nostalgia marketing an absolutely brilliant eCommerce marketing strategy, especially for a luxury high-end shopper. The high-end shopper craves an emotional connection with a brand. And most luxury brands have a rich history they can bring up to establish that unique emotional connection.
While some things aren't iconic enough to be brought back, some brands have truly been blessed to be a part of treasured iconic moments. Remember this iconic Audrey Hepburn moment from Breakfast with Tiffany's.
The original designer of these sunglasses, British eyewear brand Oliver Goldsmith, launched these glasses in 2011 to mark 50 years of Breakfast at Tiffany's. And to this day sells this piece with the date 1960 embossed on it, the original date of production. And it is marketed on their eCommerce website as "WORN BY AUDREY HEPBURN".
It is truly an iconic product and inspired many designers to create their interpretations of it. Moreover it gave Oliver Goldsmith a much needed boost in sales as the interest in vintage grew.
Connoisseurs of cinema and fashion alike reacted positively to this marketing campaign. It brings out the side of them that wants to take a piece of history and save it. Whether as a conversational piece, or just something close to their heart. Nostalgia marketing gives them the ability to relive the emotional connection through this product.
The Magnificent Elements of History
History has a charm like no other. Whether it is the way humans did things back in the day or the tools they used. Every element of history has a special place in the heart of today's consumer. Here is a vintage makeup tutorial that gained a lot of traction:
Today's makeup aficionados and make up artists were getting exceedingly excited about the techniques used back in the day. And this is precisely when brands decided to use nostalgia marketing campaigns to supplement the demand of vintage-like cosmetics.
The above is a poster from the days of yore. Notice the packaging and aesthetic of the lipstick? Benefit Cosmetics recreated this aesthetic for a recent product line:
In fact, lately Benefit Cosmetics has been owning the nostalgia marketing game with most new launches and campaigns. One of their marketing campaigns took a deep dive into nostalgia and channelled Greek goddess Venus, the OG beauty sensation.
These are not mere coincidences. It is a smart understanding of marketing and consumer demand that has shaped such campaigns for big brands like Benefit Cosmetics and many others, including seasoned luxury house Gucci.
Gucci has been channeling the vintage lipstick packaging, with flower and quirky elements on their new launches. The nostalgia marketing game is so on point with Gucci, the entire campaign seamlessly blends vintage and modern chic with every bit of class.
From luxury brand Gucci to Shu Umeura, flower elements have been a point of much interest to achieve success with nostalgia marketing in the makeup industry. Every product is a piece of art with which the user gets to create their own art. And thus completing the long standing circle of luxury makeup. And a brilliantly successful marketing strategy using nostalgia marketing.
People or consumers view these nostalgia products as standalone pieces of art. And thus, even if they are released with outrageous "luxury" price points, it doesn't matter to the consumer. The buzz makes buying the piece worth it. And it sooner than later becomes a collector's item. Except, everyone is buying it.
How Luxury Brands are using Nostalgia
Brands like Gucci amongst others have used nostalgia marketing in campaigns as well as at production level. Luxury brands time and again have used nostalgia marketing for various reasons, at different levels of operations.
Since nostalgia marketing is such a valuable asset for luxury brands, they always tend to use it in some shape of form at a given time. Here we present multiple cases of brands using nostalgia marketing in different ways.
Gucci and Balenciaga take on New Markets
As economic growth is on the rise, new markets emerge for luxury brands. Case in point, China. Strategists view China as a big market, in fact, prior to the pandemic hitting, China was on track to be the world's biggest luxury market. Taking note of this, luxury brands like Gucci, Balenciaga and many others wanted to hit it off with these new consumers.
Gucci has run multiple marketing campaigns using nostalgia marketing in China, to grab the attention of new consumers based on their cultural preferences. Since, animations characters had a big influence on the upcoming Chinese populations, Gucci and Balenciaga both collaborated with old animation characters to draw the emotion from consumers.
Gucci ran two campaigns to mark the Chinese New Year, with two of the more popular animation characters, Mickey Mouse and Doraemon. Disney's Mickey Mouse is fairly popular in China, and so is the Japanese manga Doraemon. And both of these nostalgia marketing campaigns were extremely successful, with just media impact value running in millions of dollars.
Balenciaga joined the party, hitting the nostalgia spot with a Hello Kitty collection. Hello Kitty is pretty popular in many Asian countries, as well as European countries. The nostalgia was so big on this one, that this collection sold out pretty much instantly during its retail launch after its debut at Paris Fashion Week.
Chanel gives Instagram the 90s vibes
As Gucci and Balenciaga leverage animation characters from the past, Chanel does something truly iconic with their inhouse looks. Instagram is overflowing with Chanel's 90s looks.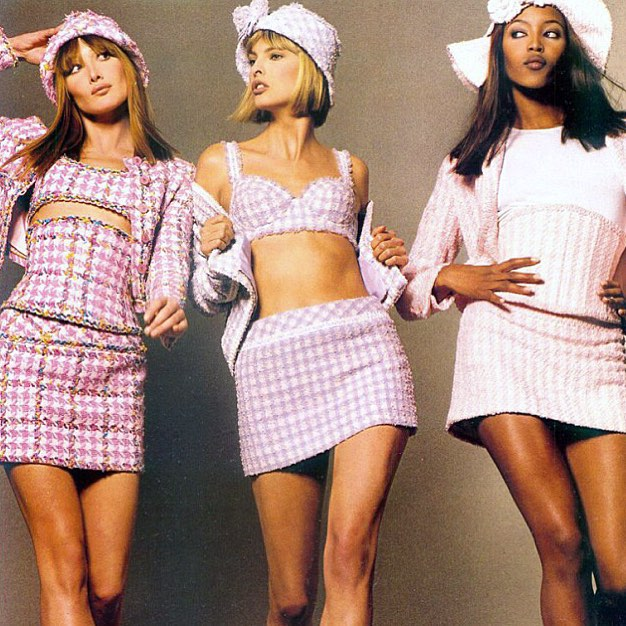 These iconic looks are from Chanel's best decade, when it transformed from a brand catering to old rich women to something chic and more "out there". Chanel's entire marketing today, including it's branding takes notes from its 90s looks
PS. If you're wondering why a luxury brand should use Facebook and Instagram, don't forget to read this article. 
Louis Vuitton's Nostalgic Horror Show
Louis Vuitton's pre-fall 2020 campaign is the nostalgic vision of 80s horror. Louis Vuitton leverages the horror art from pulp fiction book covers and movie posters paired with bubblegum colored preppy clothes from that era. The marketing campaign features nostalgic references through and through with a narrative journey where each garment tells a unique tale.
Tips for Creating a Nostalgia Marketing Strategy
Passion for the past is "the" thing in our ever evolving atmosphere today. Nostalgia marketing is a fairly simple idea, when implemented the right way, it can be your most powerful marketing tool.
1. Research your client base
Nostalgia marketing works only when your client base has a connection with whatever elements of the past you are bringing up. Therefore, it is imperative you do thorough research within the client base to access their deepest nostalgic moments.
For example, Gucci's Doraemon campaign was an instant hit with a client base that associates with that manga character which is most of the Asian population. And that's exactly who they were marketing to. However, it might not have been such a hit with a western audience.
Also, take into account the personality of your audience. If you have an up and coming millennial audience, they might associate nostalgia with the 90s vibes. However, for a Gen Z audience, the early 2000s is the go to nostalgic thing. Draw out your demographic, and overall personality of your client base before you proceed.
2. What's the retro thing that goes with your brand?
Your client base could be nostalgic about many things, no doubt about that. But to narrow down your research, look for things that actually go with your brand. No nostalgia marketing strategy will work unless it is inline with your brand.
For example, the cancel culture is a huge thing today. Many past heroes have been identified as bigots, or evil in some cases. So don't go for something that cheapens the look of your brand. Remember, you want to use nostalgia marketing to boost your overall brand image, so be aware of whatever you choose to work with.
Another thing to leverage here is the timing. If your brand is big on product launches, like most luxury brands are, build the nostalgia marketing campaign around a product launch. You can even use it to highlight a big change that you have made within your brand. Whether it is based on the products itself, or the ideology that you follow in the workplace. For example, women artisans have come to light in recent years with respect and credit in many countries after decades of oppression.
Your nostalgia marketing campaign could be around the upliftment of women by using an inspiring female character from the past. But ensure you have a strong reason to go with whatever retro thing you choose.
3. Leverage social media and embrace the trends
Social media is possibly the biggest, most powerful tool for any marketing campaign today for luxury brands. And nostalgia marketing is no different. In fact, nostalgia marketing is inherently about emotions and so is social media.
Case in point, Chanel has a huge organic presence on social media for its designs from the 90s. And that gives it a big boost to offer a nostalgia marketing campaign surrounding it.
Social media is anyway big on nostalgia. You can use hashtags like #TBT which is an acronym for ThrowBack Thursday whilst sharing posts related to the nostalgia marketing campaign. Or before you launch your campaign, you can build excitement using certain subtle references to throwback with "Hey remember this?". It will give you that buzz, and start conversations.
4. Use your brand's iconic moments
Not all luxury brands have a history, but many do. Luxury brands are rarely born overnight, in fact they tend to blow up instantly after years of hard work. If you have any in house iconic moments, feel free to make these a part of your nostalgia marketing campaign.
This of course is a double win, considering you combine brand positioning with nostalgia marketing. For example, Chanel brought back the hip chains from the early 2000s.
5. Subtle things matter
Nostalgia marketing is great, but don't overdo it. It doesn't have to be an over the top campaign blast from the past. It should be as subtle as possible. In fact, with luxury branding, everything should be as subtle as possible in terms of marketing.
Luxury brands present a sophisticated touch in a world filled with maximizations. So make subtle references to retro, whilst keeping a modern feel intact.
Where can you use Nostalgia Marketing?
Nostalgia can be used anywhere. Literally anywhere. It is such a powerful emotion oozing experience, that consumers are bound to interact with it. Whether they like it or they hate it, they can't simply ignore it.
Although, be aware of what you are putting out and don't be too flashy. But, share it everywhere. From social media, to paid ad campaigns, email marketing, and even SMS. Some brands go as far as to change their logo for a limited period as part of an ongoing nostalgia marketing campaign.
But again, don't stretch it. Keep it simple, and keep it exclusive. If something extremely special pops up, that gets a positive response then maybe you can include it in your usual marketing campaigns. But the key is to keep it subtle. Don't make it a thing no one wants to follow anymore because it is just too boring!
And that's how you do it, folks! Hope you got a wholesome picture of nostalgia marketing with some key takeaways.
For more tips on eCommerce marketing and advertising strategies used by leading lifestyle brands across the globe, don't forget to subscribe to our newsletter.